Quality, craftsmanship and the voice of the sea
A Salty wreath is a special wreath, an investment in your style and decor. Perfect for your New England style home or beach cottage, each is lovingly handcrafted from Maine driftwood with an option to be embellished with sea glass. All of the driftwood and glass is tumbled, tossed, sun-bleached, and hand collected on local beaches. A Salty wreath is not the least expensive driftwood wreath you'll find … but I guarantee, it is the finest.
The Process
All of my Salty Girl wreaths begin with a custom made, strong wooden base. The driftwood sticks are sanded and rounded to give a finished quality to the center. Each is carefully placed and securely fastened with carpenters glue and tiny tack nails. Stick by stick, and layer by layer, I build my wreaths quietly and slowly, inspired by each unique and special piece of wood. The finished piece comes together like a puzzle. I like to stand back and admire each wreath before it's packed up and sent to it's new home.
Final Touches
What makes a Salty wreath so special, is the added touches that take place at the end of the process. Using small, unique shaped pieces of driftwood, I fill in gaps and embellish the center circle to create a focal point of texture, color and movement.
We often hear how much our customers love Maine, those that have traveled here, and those that may still. I give thanks for the blessing of being able to bring a little bit of Maine, and a big dose of joy, to our customers homes.
Natural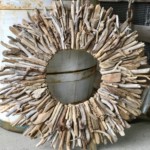 Woven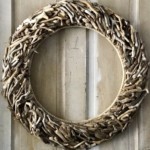 Sea Glass